There are several places in the United States where you can typically find little to no snow. For example Southern California, Florida, Texas Gulf Coast, Arizona, Southern Nevada, Hawaii, Southernmost regions of Texas, etc.
Overview of the Warmest States in the USA
Florida, also known as the Sunshine State, is one of the warmest states in the U.S.A. Winter temperatures here often average between the low 60s and the mid-70s, and snowfall is extremely rare. Hawaii, though more isolated, boasts similar temperatures with winter daytime highs rarely dropping below 75 degrees Fahrenheit. Furthermore, precipitation during Hawaii's wet season of December to February is typically rain, not snow.
Other warm states include Louisiana and Alabama, both of which have tropical climates and rarely see snowfall. Louisiana's southern region almost never gets snow, and the northern parts only receive light dustings averaging about a quarter-inch per year. Alabama, on the other hand, experiences mild winters with low temperatures averaging just above freezing, and only slightly over half an inch of snowfall annually.
Mississippi and Georgia both have short and mild winters, with snowfall averaging less than 1 inch per year. The northern regions of these states are more likely to experience some snow, while the southern parts enjoy warmer temperatures. Texas is another state with seldom snowfall, averaging less than 2 inches yearly. Central and southern Texas are particularly known for their mild winters with high temperatures in the mid-60s.
The Best Places with No Snow in The USA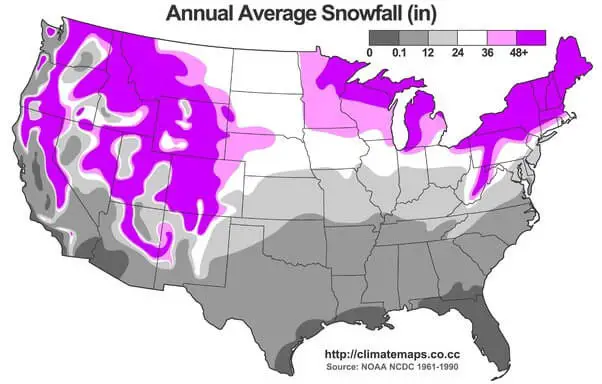 If you dream of a life without shoveling snow, here are some top locations in the USA with little-to-no winter weather:
Hilo, Hawaii: With over 200 years of records, Hilo has experienced no snow. Enjoy beautiful waterfalls and green landscapes in this small town on the Big Island.
Miami, Florida: Known for its warm weather, Florida is the state for a snow-free life. Miami, in particular, has seen no official snow accumulation since records started being maintained in the 1800s.
Jacksonville, Florida: Last recorded snowfall in Jacksonville was on February 12, 1899, making it an excellent option for those looking to avoid winter flurries.
Key West, Florida: This subtropical paradise in the Florida Keys hasn't experienced any snowfall since records began in 1872.
Naples, Florida: No snow has been reported in Naples for at least 70 years. Swap the snow shovel for beaches, warm temperatures, and sunshine galore.
Everglades City, Florida: Another Florida location, Everglades City hasn't seen snowfall in 150 to 200 years. Enjoy the small-town charm and unique swamp environment of this Gulf Coast getaway.
Charlotte Amalie, U.S. Virgin Islands: Situated on St. Thomas, this Caribbean island capital has temperatures that rarely dip below 75 degrees. However, hurricane season may require attention.
Phoenix, Arizona: Although snow can fall in the surrounding mountains, Phoenix itself experiences minimal snow. The greatest snowfall recorded was just an inch in 1933 and 1937.
Long Beach, California: Enjoy an average of 287 sunny days per year and no snowfall in this coastal resort city.
Sacramento, California: The city averages 0 inches of snow per year, with the last significant accumulation of 2 inches in 1976.
Activities to Do in Places with No Snow in the USA
Surfing in Florida: With its warm climate and diverse coastline, Florida offers surfers plenty of opportunities to catch waves and sunny skies. Head to beaches like Cocoa Beach or New Smyrna Beach for some excellent surf spots.
Hiking in California: California's mild winters and diverse landscapes provide plenty of excellent hiking opportunities. Visit the famous Redwood National Park, hike through the iconic Yosemite Valley, or explore the coastal trails in Big Sur.
Sailing in Hawaii: Hawaii's year-round warm weather and consistent trade winds make it a sailing paradise. Rent a sailboat or join a sailing tour to explore the beautiful Hawaiian Islands.
Exploring the Everglades in Florida: Florida's Everglades National Park is a unique subtropical ecosystem that can be explored by airboat or kayak. It's home to diverse wildlife, including alligators, manatees, and dozens of bird species.
Golfing in Arizona: With year-round warm weather and over 300 golf courses, Arizona is a golfer's paradise. Head to Phoenix, Scottsdale, or Tucson for a wide selection of courses and stunning desert scenery.
Wine tasting in California: Take advantage of the mild winters and visit the world-famous Napa Valley or Sonoma County for some wine tasting, fine dining, and picturesque vineyard views.
Mardi Gras in Louisiana: New Orleans is known for its fun, festive atmosphere, and there's no better time to visit than during Mardi Gras. Join the parade or attend a masquerade ball to experience the city's vibrant culture.
Beachcombing in South Carolina: South Carolina's coastline offers numerous beachcombing opportunities, with mild winter temperatures ensuring a pleasant experience. Visit Hilton Head Island, Myrtle Beach, or the Isle of Palms to enjoy the sun, sand, and surf.
Conclusion
In conclusion, there are numerous places in the United States where snow is a rare or non-existent occurrence. For those seeking refuge from cold, snowy winters, Florida is the top state with the most cities and towns that have never experienced snow. From Key West to Everglades City and Naples, Florida's subtropical climate and low elevation keep the snow at bay. Similarly, the Caribbean island of St. Thomas, home to the capital of the U.S. Virgin Islands, offers year-round warmth and boasts no recorded snowfall.
References:
https://www.bobvila.com/slideshow/16-american-towns-that-have-never-seen-snow-53152
https://www.upack.com/articles/best-places-to-move-to-avoid-snow