The trucking industry plays a vital role in the United States, serving as the backbone of the country's economy. The truck business in the USA encompasses a wide range of activities, including freight transportation, logistics, and supply chain management. Trucking companies operate fleets of trucks, transporting goods and products across the country, connecting manufacturers, distributors, and retailers.
Overview of Trucking Business Opportunities in the USA
The trucking industry in the USA is a vital component of the economy, with everything from groceries to medical supplies relying on it for delivery. As of 2021, there were over 2 million trucking carriers in the USA, with the vast majority (97.4%) operating with fewer than 20 trucks. This shows that small businesses dominate the industry, and there is plenty of room for growth and innovation. Despite the industry's male-dominated reputation, there is a significant percentage of female truck drivers (14%) and a comparable number of women who are interested in pursuing a career in truck driving. In terms of age, the majority of truck drivers are between 45 and 54 years old.
The trucking industry provides a significant number of jobs in the USA. As of 2021, there were 3.5 million truck drivers employed, accounting for 61.4% of the industry's workforce. The industry also employs mechanics and laborers, with a total of 2,094,700 trucking industry jobs in the USA. The vast majority of truck drivers work full-time, with only 10% working part-time. Truck drivers earn an average median salary of $47,130 per year, with 34% of freight trucking costs going towards paying drivers' wages.
The USA trucking industry is divided into three primary sectors – full truckload (FTL), less-than-truckload (LTL), and couriers. FTL carriers haul large amounts of homogenous cargo, while LTL carriers transport shipments larger than parcels but not large enough to fill a full trailer. The courier sector carries non-palletized and light goods, such as parcels. The largest US trucking company by market value in 2020 was Old Dominion, with other prominent companies including JB Hunt and YRC Worldwide. With the increasing demand for deliveries due to the rise of e-commerce, there are enormous opportunities for new businesses to enter the trucking industry in the USA.
Starting a Trucking Business: Step-by-step Guide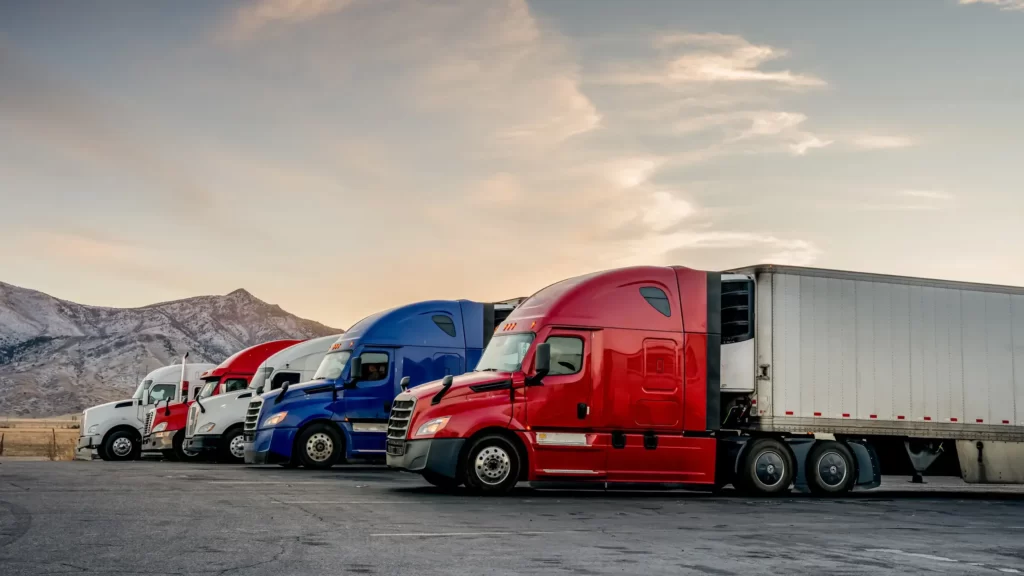 Are you thinking of starting a trucking business in the USA? With 70% of all freight being transported by trucks and a predicted 27% growth over the next decade, it's a lucrative industry to be in. Follow these steps for a successful start-up:
First, create a business plan to set goals, organize, and articulate your value proposition. Incorporate your company as a Limited Liability Company (LLC) or corporation to protect your personal assets and gain legal, tax, and business advantages.
Second, obtain necessary licenses and permits, which vary depending on your state, county, and local governments. Ensure you have a Commercial Driver's License (CDL) and any necessary endorsements.
Third, register for your USDOT number and obtain trucking authority from the FMCSA. Choose a unique business name, complete an application, and file for appropriate insurance.
Fourth, secure financing and decide on the type and size of trucks needed. Purchase or lease trucks, rent or buy a headquarters, and invest in preventive maintenance and repairs.
Fifth, establish a pricing strategy and sales plan. Consider market trends, competition, and customer needs.
Sixth, create a hiring plan, which should include job postings, interviews, background checks, training, and employee retention programs.
Seventh, market and advertise your business through social media, trucking industry publications, and word-of-mouth referrals.
Eighth, prioritize safety and compliance with regulations such as the Hours of Service (HOS) rules, drug and alcohol testing, and vehicle inspections.
With these essential steps, starting a trucking business in the USA can be a profitable and fulfilling endeavor.
Case Studies: Success Stories in the Trucking Industry in the USA
The trucking industry in the USA has seen several success stories over the years, with companies expanding and growing in the competitive market. Here are some case studies of companies that have made it big in the trucking industry:
One such success story is that of SemiCab, a trucking-focused SaaS company founded in Atlanta by Ajesh Kapoor. With headquarters in Atlanta, the company offers transportation logistics and built its marketplace platform over two years and guarantees the safety record of each carrier vetted on its platform. The company has seen rapid expansion, handling loads worth of up to each month.
Clarissa Rankin is a trucker businesswoman from Charlotte who started Clarissa Rankin, a trucking company that has carved a path for women in a male-dominated field. This company has allowed her family to make ends meet. Rankin transports anything from diapers to televisions to canned foods around the East Coast, earning around $144,000 a year.
Bee-Line is an asset-based freight transportation and logistics services company headquartered in Houston, Texas. Founded in 1964, the company provides high-performance full truckload and intermodal freight transportation along with warehousing and supply chain management services. With two terminal locations in Houston and San Antonio, the company has grown from a small package courier service to a leading logistics solution provider.
George Van Dyke Trucking is a company that maintains a fleet of twenty tractors that haul flatbeds, curtain vans, dry vans, and low-boy trailers. They haul Pepsi products as well as lumber and building materials throughout the Pacific Northwest United States, covering Oregon, Washington, Idaho, and California.
Logistic One Ltd., a small transportation company that began as a vision of veteran truck driver Adrian Leica, hauled various types of freight for different clients when it was first founded. Today, it has grown into a national company with a diverse client base and a reputation for delivering exceptional customer service.
Conclusion
The trucking industry has been a vital part of the U.S. economy for many years. As of 2021, there are just over 2 million trucking carriers operating in the country. Surprisingly, 91.5% of these carriers operate with six or fewer trucks, while 97.4% operate with fewer than 20 trucks, indicating that the majority of U.S. trucking carriers are not owned by large companies. The importance of this industry is apparent as many daily necessities and conveniences depend on it. For example, grocery stores would go out of stock in just three days if trucks stopped driving, and medical supplies, ATM cash, gas, and other goods would also be in short supply.
References:
https://en.wikipedia.org/wiki/Trucking_industry_in_the_United_States
https://www.incorporate.com/learning-center/start-trucking-company-eight-steps/